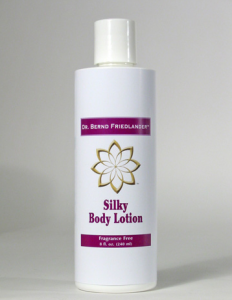 [add_to_cart item="BFSILKLOTION" quantity="user:1" ]
This light and rich lotion is ultra-moisturizing. It will keep your skin feeling smooth and soft all day, and it contains high doses of anti-oxidants to protect the skin from environmental elements.
Massage into feet, legs, elbows or anywhere extra moisture is needed.
Contains no parabens or petrochemicals and is 100% fragrance free.
8 fl. oz. (240 ml)