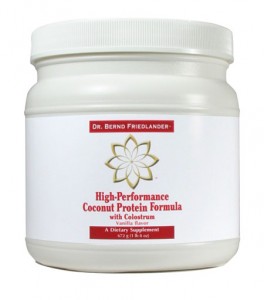 [add_to_cart item="HPCCC" quantity="user:1"]
Dr. Bernd Friedlander's High-Performance Coconut Protein Formula with Colostrum is the ultimate performance formula for the human body. In addition to coconut-collagen protein and colostrum, the formula contains over 22 essential vitamins, minerals, and nutrients.
The coconut-collagen protein blend is a first-in-its-class, cold-processed non-denatured protein formula with an extremely low molecular weight that makes the protein much easier for the body to use than many other proteins. The coconut element provides energizing MCTs (medium-chain triglycerides) and the collagen is exclusively type-1, the exact kind found in the human body. Collagen may help with insomnia.
Colostrum is added to stimulate growth factors, boost the immune system, and optimize the health of the GI tract. A recent European study has found the growth factors in colostrum to stimulate growth more effectively than whey protein and other protein formulas. Colostrum also contains a unique mixture of phospholipids that boost brain and endocrine function and optimize cholesterol levels. Like the collagen, the colostrum in this formula is of a low molecular weight for maximum utlity to the body. The coconut-collagen protein combines with colostrum to optimize energy, stamina, strength, and muscle tone, while increasing the speed of recovery.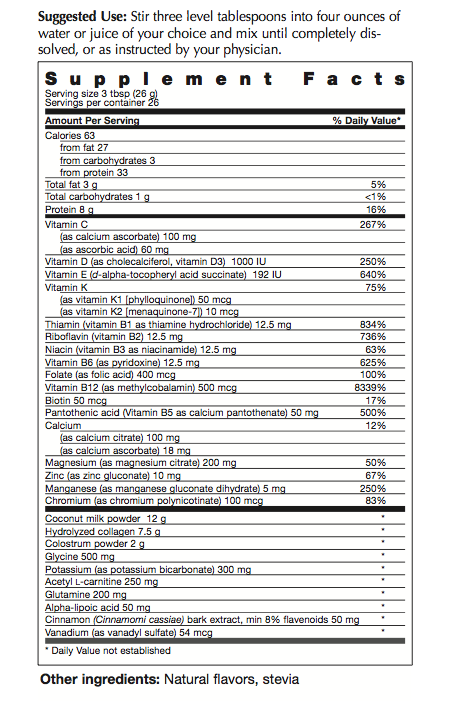 The formula contains a wide-ranging vitamin and mineral blend that may optimize the immune system, influence blood sugar (which may promote weight loss), and raise energy levels. Vitamins include B complex with folate and B-12 in one of its most useful forms–methylcobalamin. Also included are vitamins B-7 (biotin), C, D-3, K-1 and K-7. Essential minerals include calcium, magnesium, zinc, chromium, and vanadium. Added acetyl-L-carnitine packs a boost to energy levels and brain function, while cinnamon controls blood sugar. Aminos glycine and glutamine along with R-lipoic acid top off the formula to promote muscle growth, GI function and healing throughout the body, and more efficient mitochondrial function.
Benefits:
Builds and purifies healthy, moist skin*
Helps control blood sugar, which can promote loss of excess weight*
Boosts energy levels and mitochondrial function*
Builds healthy joints, ligaments, tendons, cartilage, and connective tissue*
Strengthens the immune system*
Optimizes the GI tract and probiotic activity*
Supports brain health and mental energy*
Assists with muscle growth*
Supports internal healing and recovery*
Decreases inflammation throughout the body*
Makes for more effective, restful sleep*
Creates conditions for optimal hormone function*
Normalizes cholesterol levels*
1.5 lbs.  Vanilla Flavor.

[add_to_cart item="HPCCC" quantity="user:1" ]
*
These statements have not been evaluated by the Food and Drug Administration.  This product is not intended to diagnose, treat, cure, or prevent any disease.