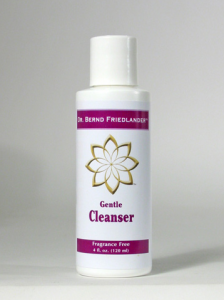 [add_to_cart item="BFGENCLEANS" quantity="user:1" ]
Gentle Cleanser is a gentle, light foaming, non-drying formula that doesn't dehydrate the skin while cleansing away excess skin oils, impurities and makeup. It also purifies the skin without irritation while promoting the appearance of fresh and healthy skin.
Gentle Cleanser is
pH balanced to keep the skin feeling soft, smooth and supple
Fragrance free
Free of parabens and petrochemicals
For all skin types
Gentle Cleanser is our cleanser of choice because it works and it is free of toxins and irritants, making it a safe choice for Mom and baby.
4 fl. oz. (120 ml)