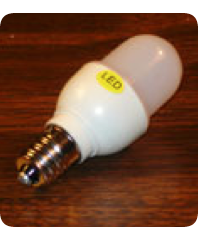 [add_to_cart item="LOWBLUNITELITE" quantity="user:1" ]
When you need to wake up in the middle of the night during pregnancy or especially after your baby is born, this unique amber nightlight won't stop your body from making melatonin like other lights do. That's because it emits almost no blue light. Sunlight and almost all other bulbs contain plenty of blue light, which stops melatonin production and makes falling back asleep difficult. Melatonin is a hormone your body uses to induce drowsiness and sleep.
This night light comes with a unique amber LED bulb that emits 90% less blue light than ordinary bulbs, making it a perfect choice for pregnant women and new mothers. After birth, experiments have shown that using amber bulbs for breast feeding at night allowed mother to keep producing melatonin and return to sleep easily. At the same time, a newborn baby is not able to make his/her own melatonin yet. When mother is able to continue producing melatonin during breastfeeding, her baby gets melatonin through her milk and is able to sleep better too.
About The Nightlight
Package contains one 120 VAC nightlight fixture and one 120 VAC LED amber bulb (for use in the United States and Canada). The LED bulb produces light only in the amber portion of the light spectrum, with a peak at 589 nm. The LED bulb will not work in automatic on/off night light fixtures, but since the bulb is LED, it will last a very long time. DO NOT use dimmers with 120 VAC LED bulbs, as some dimmers may cause the bulb to fail.