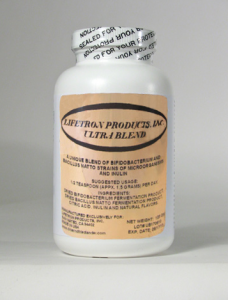 [add_to_cart item="PROBULTRA" quantity="user:1" ]
Probiotic Ultra Blend is ultra active. It contains human friendly bacteria known as Bifitorium 5536. It is not cultured through yoghurt, soy or other bacteria. Ultra Blend is enhanced by the presence of Bacillus Subtillis which ingests harmful bacteria in the colon. Both Bifitorium 5536 and Bacillus Subtillis stimulate natural enzyme production and activity and improve assimilation of nutrients, maintain a healthy immune function and reduce inflammation in the colon. It also helps maintain healthy bowel function.
Benefits
Improves intestinal flora and maintains a healthy ph in the digestive tract*
Inhibits the growth of unhealthful bacteria*
Promotes overall digestive health and comfortable digestion*
Supports a healthy immune system*
Reduces occasional gas and other minor digestive issues*
Promotes healthy bowel function*
*These statements have not been evaluated by the Food and Drug Administration.  This product is not intended to diagnose, treat, cure, or prevent any disease.