T-Tapp Workouts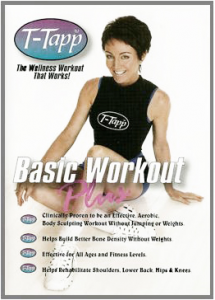 In terms of a comprehensive body upgrade, the T-Tapp Basic Plus packs more benefits into less time than any workout we've seen to date.
T-Tapp is the fastest weight loss workout we've ever seen:
Detoxifies the body
Increases insulin sensitivity, which promotes loss of excess weight
Reduces stress
Skyrockets energy levels and mental clarity
Boosts metabolism
Improves cardiovascular function
Helps the brain gain better control over the body (builds neurokinetic function)
Takes just 15 minutes a day
We're so impressed with the T-Tapp workout that we've partnered with T-Tapp to offer you the T-Tapp routines we've found most effective in the least time, including the T-Tapp Tempo 2 Workout, which is a more demanding version of the original T-Tapp Basic Plus. We recommend starting with the Basic Plus and then moving to the Tempo 2 if you wish.
Not convinced? Teresa Tapp offers an extensive list of instruction movies free on her YouTube channel: T-Tapp Workout Central. Go ahead and try some of her workouts for FREE, just 15 minutes a day. You will not be disappointed.
Please sign up for our email list, and we will announce as more of this material, and all of our other resources, become available. Thank you!